FOR DOG OWNERS & LOVERS
My Dogs and Doggie Activities
---
JOE COOL Joe was adopted from WAG (Welfare for Animals Guild) at age 4. They took him from his original owner, a meth addict who lived in a car. So his socialization was a bit lacking. After some initial work to help Joe learn impulse control, he began taking classes in K9 Nosework. At first, he was pretty wishy washy about working, but as we settled in together, he became quite a hard-working dog, and he passed his level I nosework at his second trial. He quickly passed his ORT for anise, and at his first level II mock trial, he made all the finds and placed 2nd overall to his classmate Mikado, an incredible German Shepherd. Joe is a fascinating mix of breeds. His mother was a Chow Chow/Pomeranian cross, and the family believes that his father was an Australian Shepherd from next door (who jumped the fence). The result was a fluffy 35-pound dog, the perfect size for me at this time.

NESTLE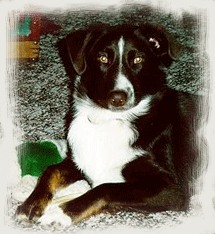 Nestle is a rescue from Kitsap Humane. Part herding dog (Kelpie or Border Collie) and part sighthound (could he be Ibizan Hound?), he loves to pose artistically in the sun and to herd his sheep. Had thoughts of competing in herding, but he herds very fast, and would have been marked down for "harassing the stock." Instead we worked in agility to help build his confidence and earned some titles before retiring because of his bad hips. Now we dabble in freestyle (hope to take our Bronze Bar proficiency tests soon) and lead our Dog Scout troop in activities.
Nestle has appeared on television several times, and helped with live dog training demonstrations at a variety of garden/home shows. For several years, he regularly visited a convalescent hospital, even though he found the necessary baths horrifying. Now he sometimes helps socialize the puppies in puppy class, and helps with a variety of demonstrations at seminars and other special events.
Nestle and I have twice recovered from surgery together - first a mastectomy for me and knee surgery for him, then carpal tunnel surgery for me and the other knee operated on for him. We both hope we are done with that.
Nestle is my first shy, insecure dog, and has taught me a lot.
---
SERLING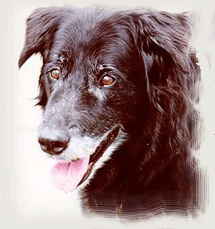 Serling was also a shelter rescue, a big puppy who was evidently going to grow a lot bigger. He became known as "almost a flat coat" for his resemblance, both physical and personality-wise, to that fun-loving breed. Because he was adopted on Halloween, he was named for Rod Serling of "Twilight Zone" fame.
Serling was my competition dog. We competed through the Mixed Breed Dog Clubs of America, earning titles in obedience, conformation, and agility. With other groups, we achieved in water work, retriever trials, and scent hurdles. Serling taught me to view competition with a sense of humor and not to take it so seriously, a valuable lesson for which I thank him.
We also made pet visits together, first in California, then in Washington. Serling had a great knack for knowing who needed a visit. He was a dog who loved the limelight, and we won a variety of talent competitions together.
---
SPIRIT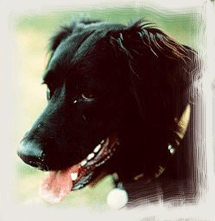 Spirit came from a pet shop, where she was six weeks old and well on her way to dying. But she lived up to the name we gave her and pulled through, and we made the pet shop make good on their health guarantee, which hastened their closing.
Probably a Springer mix and undoubtedly the product of a puppy mill, Spirit had a myriad of problems, both physical and mental. She had hip dysplasia and allergies to fleas and some foods. And when she reached adolescence she became violently antisocial. I had to learn a lot in a hurry.
Fortunately, easy-going Serling got along with Spirit just fine, and they played together endlessly. But other dogs and sometimes humans didn't fare as well. Spirit bit her trainer twice, had frequent run-ins with terrier mix Harry-O, and could never be trusted to behave in an appropriate manner. After fourteen years of vigilant management, Spirit became senile and forgot that she hated humanity, so her last two years were an ironic joy.
---
SUNDANCE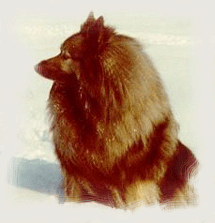 Sundance came from a Keeshond show breeder, but she wasn't show material. She looked gorgeous, but her jaws were malformed. No one could ask for a better dog, however. I was an entirely uneducated dog owner at the time, but Sundance was up to the task of teaching me what I needed to know. She had manners, grace, and the air of a princess. She clearly let me know, when the situation warranted it, that I wasn't performing up to her standards.
We lived in the countryside of upstate New York, and regularly went for long rambles. Sundance was an excellent hiking companion, looking back at trail junctions to see which way to go, and always staying within sight.
We moved several times around the state and then finally all the way to California, and Sundance made a smooth transition every time. When she was joined by a French lop rabbit, she graciously accepted Buffy the bunny, even lying beside him for naps.