INFORMATION FOR THE MEDIA
---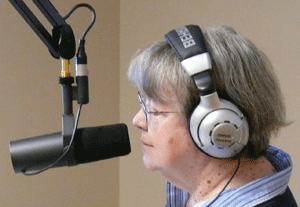 Cheryl S. Smith has lectured across the U.S. and in Canada and Japan, appeared on television in the U.S. and Canada, and been featured on radio as far away as Australia. She hosts her own call-in radio show and answers questions about all things dog on her website. Cheryl's areas of expertise include
Dogs and gardens - planting with the dog in mind and training with the landscape in mind
Canine-human communication - verbal and nonverbal communications in both directions
The many ways canines benefit humans - from companionship to search and rescue to cancer detection to medical research
Dog parks - how to use them safely (or why to avoid them)
Creating/maintaining an enjoyable human/canine bond - selecting a dog to suit your lifestyle, providing training and socialization
Positive training - lure and reward or clicker training, from simple basic behaviors (sit and come) to complex tricks ( go to a mark, choose the bigger item)
Canine nutrition - how to feed for optimum quality of life
Cheryl has received five Maxwell medallions for exemplary writing on canine topics from the Dog Writers Association of America, as well as four special awards including the "best in show" President's Award.
---
Each photo links to enlargement

   

   

   

   

---
MEDIA APPEARANCES
Television
HGTV, Gardening by the Yard
KIRO, Gardening with Ciscoe
Good Morning Vancouver, Global Network (Canada)
KTCH, San Jose
Videos
Latham Foundation Canine Good Citizen videotape
Bob Bailey chicken camp videotape
Legacy Canine Behavior & Training pet dog classes videotape
Radio
Host of PetSmith, KONP
KFNX, My Doggie Says
Good Dog podcase
Pet Central with Steve Dale, Chicago
John Patch, Talkin' Pets
The Pet Hour, XM Satellite Radio
Gardening with Ciscoe, KIRO, Seattle
Radio show in Sydney, Australia, with Kari Keenan
Animal Companions, KNRY
Animal Planet Radio
Pet Pointers with Greg McDonald, KTMS
KFBK Garden Show
KSTE Get Growing
Lecturer
IAABC
Northwest Flower & Garden Show
Van Dusen Gardens Flower Show
Bainbridge Island Garden Tour
Nestle Purina Nutrition Conference
Alaska Dog Mushers Association symposium, keynote speaker
Minneapolis Institute of Art
Port Angeles Rotary Club
WCFO International Conference
Groom and Kennel Show
Cat Writers Association annual conference
PNBA book fair
Best Friends Nutrition
2-day clicker training seminar with Mandy Book, Minnesota
Boston Flower & Garden Show
Legacy Canine Behavior & Training, Washington and Japan
Association of Pet Dog Trainers annual conference
Certifications
CGC evaluator
Delta Pet Partners evaluator
Judge 4-H Rally
Teaching Assistant, Bob Bailey chicken camps
Graduate, Nutrition Matters
Instructor, Legacy Canine Behavior & Training
Titles Earned
CD, CDX, UD (obedience)
Ch (conformation)
UAG-I, AG-1 (agility)
Retriever instinct (field)
Water Dog I (water work)
Sassy Senior Freestyle Dog (freestyle)
NWI from Natl Assoc of Canine ScentWork
Various Dog Scouts of America titles
A SELECTION OF QUOTES IN PRINT
New York Times - "I don't understand the American ethos that the lawn has to be perfect. Dogs don't just walk low to the ground, they actually eat the grass. There have been studies linking lawn chemicals to bladder cancer in dogs."
Animal Planet - (in reference to giving the dog tomato juice to eliminate brown spots on the lawn) "No, it's not a good idea. First, it simply doesn't work. Second, sustained spoonfuls of tomato juice may cause problems for you dog. Create a potty place in your yard for your dog. It's an inexpensive solution."
The Bark magazine - (dog park tips) "Small dogs need special consideration. Try to find a dog park with a small dog section. It's so easy for a little guy to get overwhelmed - not to mention bowled over - by larger dogs. Keep your small dog on the ground rather than toting him around with you in the park. Being elevated can either give a dog a false sense of control because of the elevated position and close human backup, or entice other dogs to jump up at the dog being held to get a closer sniff."
Ask Amy column - (in reference to wife cuddling with dog that husband resents) "You can teach an old husband new tricks too. If you would engage in even one short daily play session with this dog, it would benefit both of you. You might want to read The Rosetta Bone: The Key to Communication Between Humans and Canines by Cheryl Smith."
Minnesota Star-Tribune - (Question "Aren't dogs just being dogs?") A dog's breed can predict behavior - don't try to fight it. If your terrier likes to dig, make a digging pit. The guarding breeds like to patrol the fence, so leave an open pathway there."
USA Weekend - "Dogs and cats are turned off by the pungent scent of a new variety of coleus - Coleus canina -" says Cheryl Smith. "Try planting this annual, with dark green foliage and lavender flowers, around vegetable and flower gardens.
Los Angeles Times book review - "Learning what she refers to as 'doglish' involves going beyond understanding obvious nonverbal signals, categorizing canine body language into eyes, ears, mouth, tail, and body posture. . . . Smith succeeds in making the book more than a simple how-to guide by touching on emotional, spiritual and philosophical reference points throughout."
Newsday - "Many dogs who prefer to leg-lift on your favorite forsythia instead of squatting on the lawn present their own challenges. Despite being neutered, one of Smith's dogs is an inveterate marker, and she solved the problem with container plantings, 'so he waters the pot and not the plant'."
Washington Post - (in reference to why people show their dogs) "I think a lot of people do it because it makes them proud that they have a dog worthy of ribbons. And shows are social events where friendships are made. There can be people that you wouldn't visit to go shopping in the afternoon two hours away, but you travel to a show on a weekend, and you're all there."
Seattle Times - "Cheryl Smith lets the needs of dogs inspire, rather than baffle her. In a landscape she designed for Legacy Canine, a dog-training facility in Sequim, a 'dog garden' is mounded on top of a 20-foot agility-style tunnel. Weeping trees and tall grasses - which dogs love to run through - plus climbing rocks, a digging pit, paths and a water feature complete a sort of dogtopia."
---
Books in Print | Awards | Professional Associations
Television Appearances | Print Appearances
Selection of Articles Published
---